IS IT TIME TO DIVE INTO YOUR YOGA JOURNEY?
We are so excited to be hosting The BARRE + YOGA PRACTICE 200-hr Register Yoga Teacher Training beginning this January! This program takes you through 8 weekends of intense study of both Vinyasa Flow and Barre with other like-minded learners, helping you deepen your yoga practice, truly understand safety and anatomy, create exciting curriculums, find your voice and flow as a teacher, and practice delivering your first classes. This combined training gives you full certification in both Barre and Yoga, and helps you build a framework for sequencing for many different body types and flows.
Don't miss your chance to dive into the first unsegmented 200-hr RYT in Columbus GA.
Learn everything you need to know about the training at
The Barre and Yoga Room
. Ready to try out these Mary Crouse's inspiring and challenging flows first-hand? Don't miss these free sample classes!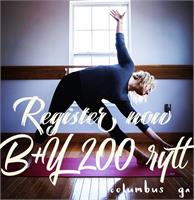 FREE SAMPLE YOGA: The Barre + Yoga Practice - Sample Class and Free Info Session for 200-Hour RYT Vinyasa Flow Yoga Teacher Training

with

Mary

Crouse
Sat, Dec 9, 2017 at 9:00 am - 10:00 am
Learn More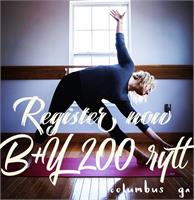 FREE SAMPLE YOGA: The Barre + Yoga Practice - Sample Class and Free Info Session for 200-Hour RYT Vinyasa Flow Yoga Teacher Training

with

Mary

Crouse
Sat, Dec 9, 2017 at 2:00 pm - 3:00 pm
Learn More