If you know you want to dive in and start strong with a steady set of classes for a short period of time, then a Bootcamp Pass might be the thing for you! Bootcamp Passes give you 1 month or 6 weeks of classes, 2 or 3 times a week. You can create your own calendar of fitness classes to fit YOUR schedule, and if you're not sure about your goals or action plan, you can even use our Bootcamp Pass to help you set your goals through our Healthy Habits Workshops.

Use our Bootcamp Passes to help you change New Year's Resolutions from good intentions to real goals, not empty promises! Start strong and stay in motion - make real change happen in your life this month...not next year!
How Does The UP! Factory Bootcamp Pass Work?

Unlike other gyms, we don't tell you the 3 classes you must take...we let you choose and design your own schedule, based on your interests and your schedule. Choose from over 80 Fit+Fun weekly classes - or from our Healthy Thinking and Eating Workshops, also below - and START MAKING CHANGE!

With a Bootcamp Pass, all classes you purchase are good for two weeks, so you can still use them even you miss one or two on one busy week. But YOU MUST STAY IN MOTION and make sure you make it up soon! If you don't use it you lose it! MOTIVATION!!

So if this sounds like a match for you, go ahead and purchase a Bootcamp Pass, and then go to our Challenging Workout Schedule and sign into 2 or 3 classes that fit your schedule for the next week. And if you want to mix in a relaxing yoga class or a workshop on sticking to your goals, you can - just skim our complete schedule of all happening this week to broaden what you can choose from.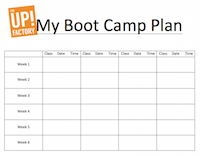 Bought Your Pass? What Happens Next?
Scan our schedules and sign in to the classes you will be attending. We recommend you sign in to at least two weeks ahead. (You can "early cancel" out of classes if your schedule changes and you can no longer make a class - just remember you only have 2 weeks to use each week's classes!)


And don't forget, once you have "Signed In" to your account on MindBody, you can always go to "MY ACCOUNT" in the upper right-hand corner of this website to see or print your schedule of classes.